My
bestest friend ever
had baby boy #2 about a month ago. It was his blessing day last Sunday and I couldn't show up without gifts! When his older brother arrived three years ago, I had an afghan ready. However, my knitting hobby has fallen off the face of the earth...it's been taken over by this digi-scrap stuff! So here's what I came up with for little Bennett:
I used these brushes, which just so happen to be on sale until Friday. I then used an oil crayon brush to 'color' these critters, so it looks like actual crayon scribbling. I love how it turned out! However, I couldn't come up with cute sayings for these guys, so they are just a wee bit lonely. If anyone has any ideas, please share! The only thing I could think of was something about being crabby on the crab onesie...lol. That one is just a bit obvious. The rest, however, not so easy...at least for me.
I also made a little chipboard album. I used photos of Bennett that his sweet mama obligingly provided me with, and covered the entire page with each photo. Then I used Ali Edwards' various brushes to add some words to the pages. I used Cosmo Cricket's
Gracie Album
, and just scanned in one of the chipboard pieces to get the page template. Printed the pages on white
Bazzill cardstock
...love the texture of this stuff. I sanded and inked the edges, then adhered the pages with Mod Podge. I also covered the pages with Mod Podge to allow for lots of handling. I've found that you also have to use an acrylic sealer to reduce tackiness and prevent the pages from sticking together. Added some ribbon to the binder ring and voila! A great little gift.
Here's a look at some of the pages: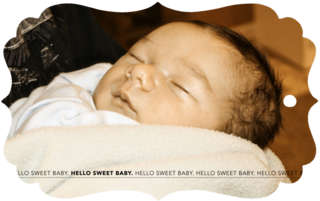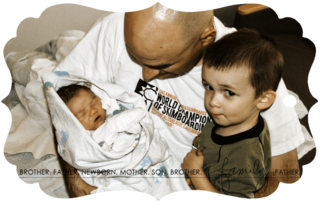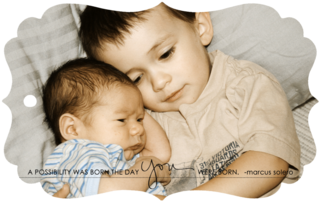 And the best part of the whole story? Hunter and I arrived in Provo (a few hours late but let's not discuss that) and I discovered the gifts of joy were not in the car!! Horror of horrors, I had left them home! Ack! I'm probably the worst friend ever invented.
However, this means I still have time to take suggestions for adding words to those onesies...so your submissions are more than welcome!!!